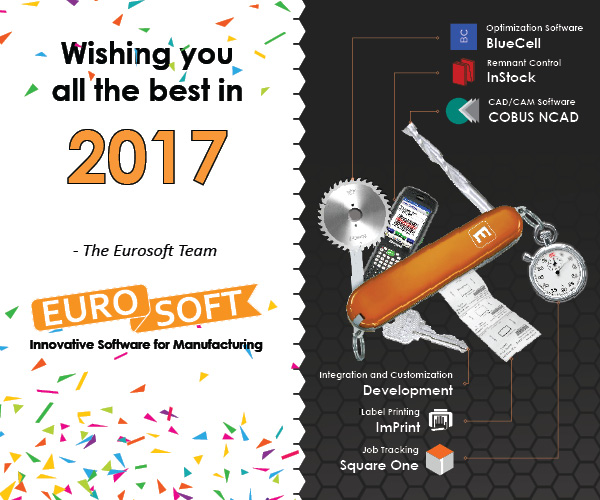 _____________________________________________________________________

New Product Announcement: DataLink

Eurosoft's developers have been working diligently on a software solution to one of the more annoying software problems our industry is facing on a daily basis: the largely incompatible "languages" machines from different vendors speak, as well as getting data from 1 to the other. Well Eurosoft has created a very flexible conversion program that facilitates compatibility between different machines and code formats: MPR, NC or CIX to name a few, and the list of supported formats is growing. DataLink can make getting data to the shop floor much easier. More details on this new product coming soon!

Eurosoft Exhibiting at LIGNA 2017

We're reaching out and exporting automation technology from America to other parts of the world. Eurosoft will exhibit at the LIGNA tradeshow for the 1st time in our history this coming year representing our products and looking for opportunities. The LIGNA is the largest trade show for the woodworking industry. Held every 2 years in Hannover, Germany, it attracts almost twice as many exhibitors as the largest trade show in North America (The IWF in Atlanta), has 3 times the floor space and draws 5 – 6 times more visitors.

BlueCell takes Root in Europe

In addition to recent installs in Australia, we are also finding a lot of interest for a new automation solution in Europe. Accommodation Furniture Solutions (AFS) ltd., is the first install of BlueCell in that neck of the woods. AFS produces furniture out of their 54,000sqft factory located in Swansea (UK). Originally known as Remploy, the company was formed to provide employment for disabled soldiers after the 2nd World War. AFS continues this tradition today, offering employment to a workforce that is 100% disabled. The work they do, building something with their hands, is a very positive, rewarding experience. Eurosoft is proud to work alongside AFS in this endeavor.

Tessie Choo: New Eurosoft Developer

The Eurosoft success story continues... again! In June of 2016 Eurosoft hired a new graduate fresh out of college with a bachelor of science degree to help with product development. We are happy to say that even during her 6 month probationary period it became clear that Tessie would, and already had, become a valuable and trusted member of the Eurosoft team. We are excited about Tessie's potential and look forward to seeing her growth as a developer continue as we begin the new year!
_____________________________________________________________________

Need more info? Want to get in contact? We'd love to hear from you

Website

Inquire

Eurosoft, Inc. - Providing Innovative software to the manufacturing sector for 20 years. Software that improves productivity, automates production and provides greater insight into manufacturing performance. From off-the-shelf solutions to personalized, multi-vendor projects, we've got your software solution! Contact us for more information on our products.