Industry 4.0: Energized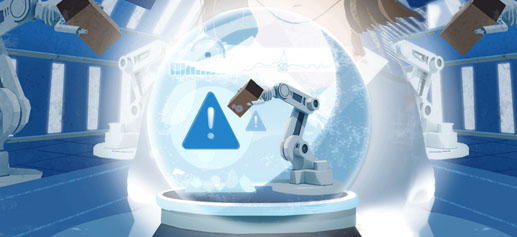 The Realization of the Industry 4.0 Concept
Several years ago (February 2015) we sent out an eNewsletter on the topic of "The 4th Industrial revolution", now more commonly referred to as Industry 4.0. But it's really only been in the last 8 months or so that we've started to see the Industry 4.0 concept and the Internet of Things (IoT) gain substantial traction as a concept that could work in the cabinet and furniture industries. For proof, just look at any closing report for the LIGNA trade show held in Hannover, Germany earlier this year in May. Originally an education exercise funded by the German Federal Ministry of Education in 2011, the initial concept of Industry 4.0 was probably more in line with what could be considered "cleanroom" technologies such as manufacturing hard drives or other digital computer components such as Programmable Logic Controllers (PLCs, used in robotics and automation). More recently, manufacturers across the spectrum are realizing that there are benefits in applying the concepts of Industry. 4.0 in their environment. In fact, reviewing the key components of Industry 4.0 would give the impression that more beneficial applications will be found in "robust" manufacturing environments that deal with uncompromising materials and rugged processes. One small component of Industry 4.0 that is already being implemented in the industry is the potential to allow the machines (CNCs mainly) to tell us how far some of their diverse components are in reaching the end of their life cycle, for instance, we're already seeing CNCs that can tell the machine operator that router bits need to be replaced or that components are about to fail. That's a start, we're at the point where the machines on the line are starting to send very informative and specific data about their status and future operability.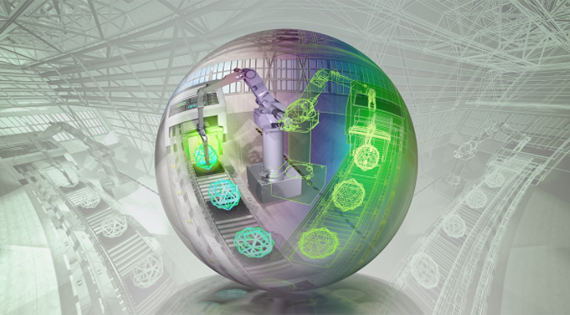 The "Digital Twin". A near real-time digital copy of the process tool or system.
The end goal of Industry 4.0, however, would take this much further: Feed the data from every machine, and other data from every stage of the manufacturing process back to a centralized data analyzing node in order to begin building a comprehensive profile of the system as a whole. This information can then be used to develop what is often referred to as the "digital twin": A near real-time digital image of the process, tool or system that allows the observer/s the ability to recognize inefficiencies and optimize performance. More on the digital twin in the next eNewsletter, which we will send after the AWFS in Vegas. Speaking of the AWFS, we expect many of the concepts described here will be on the tips of everyone's tongue at the show, and Eurosoft is definitely in the thick of it. Just this year alone we've wrapped up our 21st install as the "magic fairy dust" software integrators for Biesse's line of Winstore Storage and Retrieval Systems. Eurosoft will have a station in Biesse's booth due to our role in this capacity. We have also entered into an exciting partnership with Schelling/Ima and C.R. Onsrud, as part of the Alliance for Integrated Systems (A4IS). There the Osync technology provides real time feedback on the machines: the movement, speed, what job is running etc, and we're really starting to see a lot of interest in our SquareOne job tracking and MES solution. These represent big steps in the right direction to realizing the full potential of Industry 4.0, but there is still much room for progress. We're certainly excited about the possibilities and our own role in this new world.

Formation of A4IS Solutions Alliance

An Alliance for Integrated Work-Cell Technology

The A4IS (Alliance 4 Integrated Systems) is a dedicated group of premium brands (C.R. Onsrud, Eurosoft, Schelling/Ima), with experience providing engineered solutions across a range of industries - from wood, to metal to advanced materials and composites. This strategic alliance brings together leading product lines committed to delivering cutting-edge innovation, seamless communication and world-class technical support. With the advanced power of Osync Analytics delivering continuous monitoring, feedback and predictive analysis, A4IS enables you to plan for the growth of your business. Get more info about A4IS at any of our Booths at the AWFS in Vegas! C.R. Onsrud: #4818, Schelling/Ima: # 8411, Eurosoft: #4161.

New Partnership Formed with Autokitchens

A Partnership for Kitchen Design to Machine

Autokitchen, a leading kitchen and bath design software built on the AutoCAD engine, with offices in the USA, UK and Spain, and Eurosoft have entered into a partnership agreement with the goal of combining Autokitchen's strength as an easy to use point-of-sale design software solution with Eurosoft's twenty-one years of experience in the manufacturing industry. The combined software solution will cover the full distance from exceptional on-screen presentation of a kitchen all the way to production data for the shop floor. A prototype of the new seamless software solution will be shown at the AWFS 2017 in Las Vegas in July.
Thank you for reading our newsletter. We hope you found it informative. Please do not hesitate to contact us if you have questions!
Eurosoft, Inc. - Providing Innovative software to the manufacturing sector for 20 years. Software that improves productivity, automates production and provides greater insight into manufacturing performance. From off-the-shelf solutions to personalized, multi-vendor projects, we've got your software solution! Contact us for more information on our products.