From time to time, we will do case studies of software solutions in place at our customers that have had a major impact on their businesses. This time around we want to look at an industry that makes a very complex, delicate and typically quite expensive product that poses numerous challenges on the CAD/CAM software used to manufacture these products:
Exterior and architectural doors.

Case Study: Dallas Millwork, Inc.
> Architectural Doors, Windows and Glass
> Hiram, Georgia
> 50 employees
> 70,000 sq/ft manufacturing facility

Implementing the COBUS NCAD Doors software today with an eye on the future
Dallas Millwork, an architectural doors, windows and custom millwork shop located in Hiram, Ga, purchased the COBUS NCAD Doors module in 2006 in order to send complete CNC door programs to their brand new Homag BOF . Prior to purchasing COBUS Doors, Dallas had been building all door products by hand using AutoCAD drawings - a rewarding but slow process. Their line of thinking was that by increasing automation they could greatly increase production. Therefore the addition of the CNC and a door software solution for design was a must. After looking at a number of other software options Dallas Millwork decided that COBUS Doors was the solution that they were looking for.
According to Brian Dwyer, general manager at Dallas Millwork:
"COBUS DOORS allows for accurate machining 100% of the time, on doors of any style or shape, with a programmer that can be taught in days, instead of months. We can produce our, "one off", programs for entire slabs, all hardware prep included, in less than 10 minutes."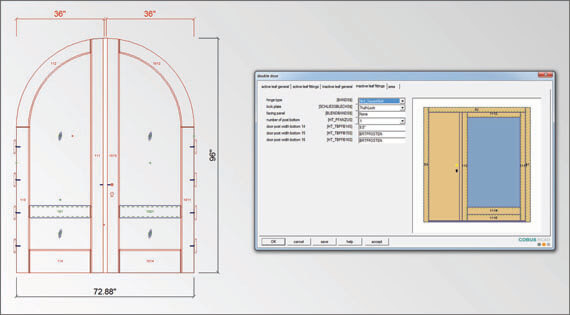 A True-Radius double door and set-up options dialog
As Brian mentions, using COBUS Doors, any number of unique door types can be constructed and sent out to the router with a minimum of hassle. Dallas's door options range from the broad: determining overall door dimensions, profile thickness, left/right handed, arch and true radius, to the detailed: adding remove beads, beveled edges, doweling, hinges, and locks. All of the necessary machining required for these options is automatically calculated and applied to the door parts.
In addition Dallas Millwork also made the decision to add both the "Parts Placement" and "Tool Optimizaton" modules to their NCAD version. The Parts Placement module provides a solution for the router table with door parts automatically layed out as desired at specified stop positions. The selection and order of tools used when machining is determined by the "Tool Optimization" module. This module deteremines the fastest, but also correct sequence of tools and eliminates any unnecessary tools changes.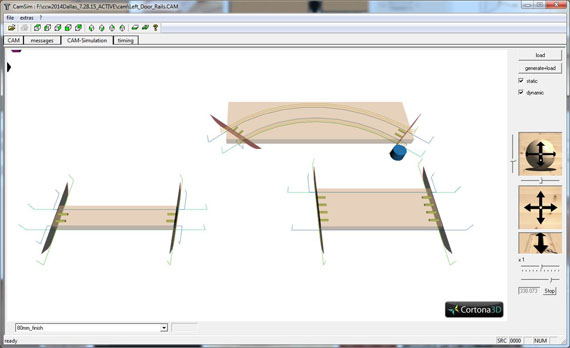 Simulation of parts placement and milling operations of left door rails
Business and Software Expansion
Dallas Millwork's gamble paid off. In 2013 Dallas had grown the business, service area and capacity to a point where the addition of another CNC could be considered to help them meet and exceed their growing production demands. An SCM Accord 30FX was added in the summer of 2014. By simply adding an SCM Post Processor to their COBUS Doors module, Dallas Millwork was now able to send door designs, created in NCAD, to either the Homag or SCM router. Determining which machine a door is sent to, when ready for production, is determined by the capacity load on each machine at that time. This allows the office to keep both routers running at a high efficiency. In addition a zone system was set up at the SCM to enable a shuttle operation, parts could be placed at open stops while the router was busy milling parts already mounted on the router, thus ensuring even greater efficiency.
An Eye to the Future
What's next for Dallas Millwork in terms of expanding on the potential of the COBUS Doors solution? There are currently plans to add even more machines to the manufacturing floor and tie them into the COBUS Doors module. Additionally Dallas plans to run even more product lines through COBUS Doors, including those with raised panel doors and other panel inserts. These panel inserts will be created as menu items for ease-of-use, with user definable fields and menus for selecting style and construction type. There is also interest in looking at DXF import (DXF Deluxe) so that parts created in AutoCAD can be directly loaded into COBUS NCAD with all machining already in place. With the great success that Dallas Millwork is currently enjoying the hardest part is finding the time to take the next steps!
Additional Information on COBUS Doors:

Thank you for reading our newsletter. We hope you found it informative. Please do not hesitate to contact us if you have questions!
Need more info? Want to get in contact? We'd love to hear from you

Website

Inquire

Eurosoft, Inc. - Providing Innovative software to the manufacturing sector for 20 years. Software that improves productivity, automates production and provides greater insight into manufacturing performance. From off-the-shelf solutions to personalized, multi-vendor projects, we've got your software solution! Contact us for more information on our products.